Year 6
Welcome to Year 6!
Our new class names are 6 Cherry and 6 Rowan. Miss Preston is the teacher of 6 Rowan and Miss Copping is the teacher of 6 Cherry. Mrs Stanton and Mrs Smith are our teaching assistants.
We understand that the final year in primary education can be stressful and difficult for a number of reasons but in particularly because of the SATs. There will be lots of hard work and perseverance required but there will also be many exciting topics, trips and visitors to ensure we provide an engaging and exciting curriculum.
"Nobody says it will be easy, but it will be worth it." (Our motto in Year 6!)

Miss Preston and Miss Copping
Class teachers.
Visit to Bradford Royal Infirmary -31st January
6 Service have been to the BRI on their IMPS lifesaving training! We had a great morning and practiced CPR. They will be bringing home some information to discuss at home.
Autumn Term
Last half term in Year 6, our topic was 'Football'! This was a fantastic and diverse topic covering a huge range of curriculum areas that developed skills across English and Maths. We looked at the history of football, biographies of footballers and the Bradford City fire. We worked closely with Bradford City on a programme called 'Literacy and Football' which is funded by Morrisons and aims at developing children's reading a writing skills based around a range of topics. The children really enjoyed having one of the coaches come in weekly to work with them.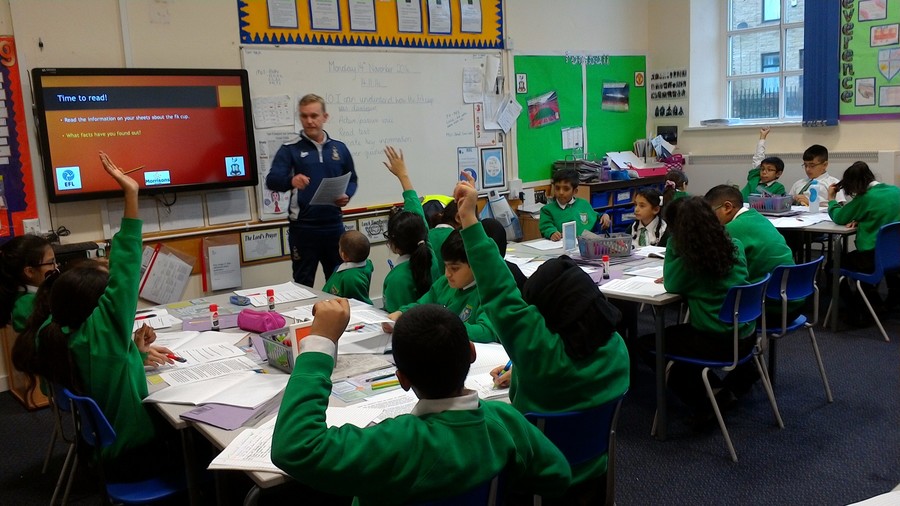 We also compared our local football team with one of the most successful teams in the world, Manchester United. We compared their historical events and their successes.